Aahrus roundtable Cattenom, Emergency Preparedness and Response from the view of the public concerned
2014, May 17 in Schengen, Luxembourg
 
Context:
To involve more actively local civil initiatives and independent experts, the Emergency Preparedness & Response (EP&R) working group has developed a common methodology on the assessment of EP&R measures in European countries and organised a Europe wide series of round tables on EP&R, involving local stakeholders and actors from neighbouring countries in order to cover the cross-border aspects of EP&R.
Press release of the event:
"What if the nuclear power plant Cattenom will explode today?
A meltdown in a nuclear power plant can happen in any moment. Are there functioning transboundary emergency plans? What are the concerns of the affected public? These questions will be clarified on 17th May 2014 on a public transboundary "Roundtable Cattenom – Emergency Preparedness & Response" in Schengen / Remerschen followed by Nuclear Transparency Watch (1) and his working group "Emergency Preparedness & Response". The result is provided in a study to the European Commission, to the governments of the Member States and to the public. The concerned public is asked to help to clarify these questions. Cattenom is one of the nuclear power plants with the densest population in France and in Europe, which would make an evacuation extremely difficult especially as three countries would be directly affected by an accident. Within a 5 km range live 75.000 persons and within a 30 km range 353.000 persons. (2) What if 353,000 people are on the run and the emergency case is lasting months and years? The conclusion of a study of the German Federal Office for Radiation Protection (BfS): A severe nuclear accident can have much wider ranging consequences than previously officially supposed. The civil protection is not prepared at all. (3) With the lifetime extension of ageing nuclear power plants we are entering a new era of risk. (4)
(1) Nuclear Transparency Watch www.nuclear-transparency-watch.eu
(2) Source: La population autour des sites nucléaires Français: un paramètre déterminant pour la gestion de crise et l'analyse économique des accidents Nucléaires. A. Pascal; IRSN, 2012
(3) http://doris.bfs.de/jspui/handle/urn:nbn:de:0221-201204128010
(4) http://out-of-age.eu/wp-content/uploads/2014/02/Lifetime-extension-of-ageing-nuclear-power-plants-Entering-a-new-era-of-risk2.pdf"
Agenda:
Dowload the agenda (EN).
Presentations of the speakers:
I) Nuclear Emergency Preparedness and Response – Anything learned from Fukushima?
Why an Aarhus Round Table on EP&R? (EN) – Brigitte Artmann Greens Fichtelgebirge/ German member of NTW (Presentation is coming).
The Aarhus Convention and Hinkley Point (EN) – Phil Kearney, Irish Member of NTW
Introduction about Nuclear Transparency Watch EP&R (EN) – Gilles Heriard-Dubreuil, French member of NTW
Nuclear Transparency Watch, The report/study (EN) – Andrej Klemenc, REC/NTW 
Extension of lifetime and the risks of serious accidents (DE) – Roger Spautz – NTW, Greenpeace Luxembourg
View on NPP Cattenom (DE) – Dieter Majer, Ministerialdirigent a.D., former technical head of the German Nuclear Safety Office, EU stress-test expert for Saarland, Rheinland-Pfalz and Luxembourg
Nuclear Emergency Preparedness & Response in Luxembourg  (EN)- Patrick Majerus, Nuclear Safety Office Luxembourg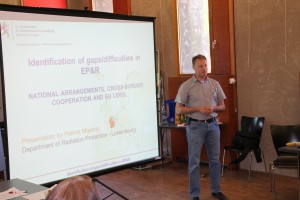 Consistent call for emergency plans (EN) – Dr Werner Neumann, BUND Germany
II) Cattenom – The public concerned – Identification of relevant local emergency problems
Presentation (DE) of Ute Schlumpberger Saar, Chair Cattenom Non Merci 
Presentation (DE) of Karl-Wilhelm Koch RLP, Co-chair of Cattenom Non Merci
Tihange – Cracks in the vessel (EN), Walter Schumacher
Fessenheim – Poor safety standards and terror attack (DE)– Helmut Wesolek Greenpeace Kronach
Grafenrheinfeld – Living in the far-zone (DE), Wolfgang Mueller Greens Bad Steben
You can download the NTW questionnaire on EP&R (EN/DE) and the results for EP&R of the German Bundesland Saarland (DE) as well as of the German Bundesland Rhineland-Palatinate (DE)