Inception Seminar of the cluster on Emergency Preparadness and Response (EP&R)
February 6th and 7th in Paris.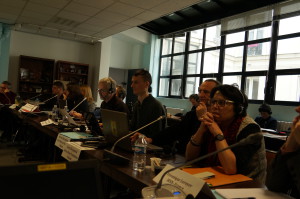 The Inception Seminar
On February 6th & 7th 2014 Nuclear Transparency Watch (NTW) held an inception seminar of its Working Group on Emergency Preparedness & Response (EP&R) in Paris. The participants, drawn from a wide spectrum of nuclear-related official bodies and NGOs, discussed the current situation regarding EP&R in Europe following the lessons learned from evaluation of the Fukushima nuclear accident three years ago.
Many critical facts and arguments were brought against the current top-down and non-inclusive predominant approach and claims for more active involvement of both local civil initiatives and independent experts were raised.
An action plan of the Working Group's activities for 2014 was agreed. It contains a critical assessment of recently completed EC commissioned study "Review of current off-site nuclear emergency preparedness and response arrangements in EU member states and neighbouring countries", development and application of a common methodology on assessment of EP&R in European countries and organisation of an Europe wide series of round tables on EP&R, involving local stakeholders and actors from neighbouring countries in order to also cover the cross-border aspects of EP&R.
The minutes of this inception seminar will be available in March on NTW website.
Read the minutes of the seminar.
You can download the different presentations that come from several European countries :
NTW and Emergency Preparedness & Response- An introduction
Hearings, principles and existing reviews of EP&R provisions in the EU, feedback from the Fukushima experience :
A review of European challenges for EP&R
Key scientific elements about radiation protection after a nuclear accident
New Basic Safety Standards Directive & relevance for EP&R
The regulatory views on EP&R provisions in Europe
Evaluations of the Fukushima emergency management
Report on the conclusions and findings of the Nuclear Third Party liability and insurance conference
Examining priorities and drafting action plan at national and trans-boundary level :
Concept and design of a trans-boundary German- French-Luxemburg-Belgium Aarhus Round Table on EP&R provisions Cattenom
ANCCLI's involvement on emergency and post-accident situations
EP&R national priorities, national action plans and possibilities of trans-boundary/regional activities : exemple of Norway
Short presentations regarding EP&R national priorities, national action plans and possibilities of trans-boundary/regional activities – SLOVENIA
Emergency preparedness and response NTW Balkan Round table
Nuclear emergency preparedness and response in Ukraine: A first assessment